Sosiego is a Colin Archer design. Her forefathers were Swedish lifeboats even though Colin was a good Scotsman. He simply wanted to design a boat that would reduce the loss of life in the fishing fleet. To that end he designed the most sea worthy and sea kindly boat out there. William Crealock took that design and adapted it to fiberglass to create an ocean going yacht. When my wife (Debbie) said lets go, I knew we needed a bigger boat. She searched the classifieds in," Latitude 38″, and found Sosiego a Westsail 32. Due to family illness she was in need of some TLC. The on going joke is that I saw a diamond in the rough and told Deb," she needed saving". Now when I pass forlorn boats at the dock and say," she needs saving" I get one of those looks.
Speed and  performance took a back seat to safety. She is 32′ on deck 11′ wide 40′ overall from bowsprit to boomkin and weighs in at 19,500 lbs. Some refer to westsails as wet snails and it is true when taking water over the bow you will end up with water on the bridge deck but all boats are compromises. The high bridge deck and small foot well and mid line companion way lend to a safe boat at sea. I've had Sosiego broached (on her side with the mast almost in the water) with not so much as a drip of water down below. And for those skeptics google Dave King. He knows how to make a westsail perform having competed in the single handed transpac. Westsails are sea boats they perform best at sea not around the buoys.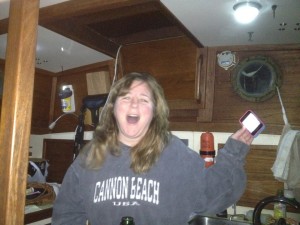 The year was 2005 and Debbie said we should go. You must understand that we both have careers, children, property and a sweet little boat called Elskan. Elskan was to small to take all of us sailing for a year so we listed her in Latitude and Debbie started the search for the perfect sea boat. Sosiego was tied to a dock deep in the delta. I'm sure prior suitors looked at her and ran away but I saw potential. Her teak decks where rotten her sails torn and her engine kaput. Ahhh but a fine sea boat with a lovely bow built to cross oceans. She was a kit boat. Built in San Diego by the son of a cabinet maker who was an engineer. Type A is an understatement. Every system he installed was documented and precisely engineered.